---
WOOD WILEY & JEBIAN

Consulting Structural Engineers

Providing engineering services to the central valley since 1959
History
---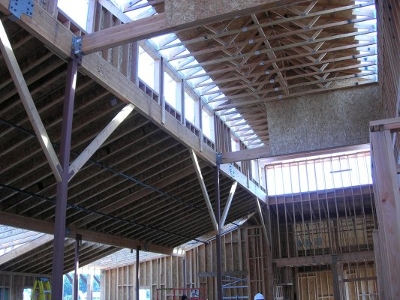 Arthur A. Sauer began providing Consulting Structural Engineering services in Sacramento, Stockton, and Fresno in 1946 after serving as Chief Structural Engineer to the Los Angeles County Architect, as the engineer in charge of the Structural Section of the California State Division of Architecture, and as Assistant Supervising C.E. and OINC in the C.E.C. Corps and Naval Construction Regiment, Japan, for the U.S. Navy.
Mr. Sauer served on many technical committees providing advisory services on seismic design requirements of structures and formulated many of the policies enforced today of the Division of the State Architect, Structural Safety Section, which reviews and supervises the design and construction of Schools and Hospitals in the State of California.
Mr. Sauer required safety factors in excess of the minimums required by codes for "important" buildings long before published codes required increased seismic forces to accomplish the same purpose. Complete drawings and specific attention to construction techniques and capabilities have been a standard of the organization since 1946. Random and detailed review of construction activities ensures contractor understanding and compliance and also provides feedback regarding current construction techniques which may be incorporated into future designs. Adherence to the principles established by Mr. Sauer and Mr. Wood has guided the firm successfully for more than 60 years in the greater central valley and 50 years locally in Fresno and continued attention to these principles of excellence will maintain the standards of quality engineering services for years to come.
In the early years, the firm was known as Sauer-Marr-Grimes-Wood Consulting Engineers, with Mr. Sauer in the Sacramento office, Mr. Marr & Mr. Grimes in the Stockton office, and Mr. Wood starting the Fresno office in 1959. The firm was a privately held professional corporation, incorporated in California in 1971, as Sauer-Wood and Associates. Arthur A. Sauer retired from active participation in the firm in 1979.
A name change was effected upon Mr. Sauer's retirement, at which time Mr. Vance Wiley became a partner with Mr. Joe Wood. At which time Sauer-Wood and Associates became Wood-Wiley and Associates. Over the years, the technical staff of Wood-Wiley and Associates varied form two to seven persons, all with formal engineering educations and most with professional licenses. Mr. Anthony Jebian began doing design work for the company in 1986.
In 1995 the corporation changed again, with the retirement of Mr. Joe Wood. At that time, Mr. Vance Wiley became the President of Wood-Wiley and Associates. Mr. Wood returned as a part time consultant for the next three years before completely retiring in 1998.
At the beginning of 2006 Mr. Vance Wiley retired from active participation in the company and the business was transferred to Mr. Anthony Jebian. At that time the corporation of Wood-Wiley and Associates became the sole proprietorship of Wood Wiley and Jebian, with Mr. Jebian as the owner and principal engineer. As Mr. Wood did, Mr. Wiley has returned as a part time consultant. As of January 1, 2008, Wood Wiley & Jebian became an incorporated company.